The dragonfire shield is one of the best shields in the game. A Defence level of at least 75 is required in order to wear it.It acts like a regular anti-dragon shield in terms of dragonfire protection.
Bonuses
Hover over image for type

A player wielding a Dragonfire shield.
 Attack bonus
0
0
0
-10
-5
 Defence bonus
+70
+75
+72
+10
+72
Other bonuses
Slot

+7
0
0%
0
The Dragonfire shield is unique in terms of Defence it gives. The dragonfire shield has unlimited charges.
Creation
Edit
To create a dragonfire shield you must obtain a Draconic Visage which is obtainable via trading, or receiving one as a drop from various dragons. You can get a draconic visage from Black Dragons, Bronze Dragons, Iron Dragons, Steel Dragons Skeletal Wyverns and King black Dragon.
Infusing the draconic visage with an anti-fire shield requires the player to have 95 smithing.
Discharging
Edit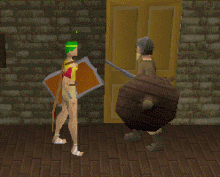 Demonstrating what it looks like when a player uses the shields discharge ability.