Giles
Race
Human
Location
Shops
Sells Items?
Melee Weapons
Gender
Male
Notable features
He sells Melee Weapons.

Examine
It's a Giles.
[view]
Giles is a shopkeeper that sells melee weapons and low level defenders at the ::shops teleport.
Melee Weapon Shop, Uses coins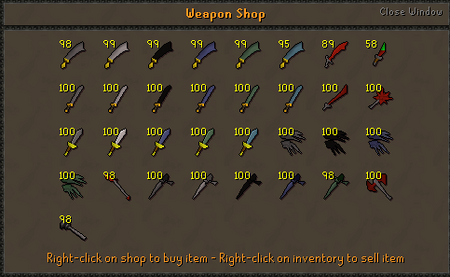 Items going from Left to Right, Top to Bottom.
| Item | Number in stock | Price bought at |
| --- | --- | --- |
| Iron Scimitar | 100 | 112 |
| Steel Scimitar | 100 | 400 |
| Black Scimitar | 100 | 768 |
| Mithril Scimitar | 100 | 1040 |
| Adamant Scimitar | 100 | 2560 |
| Rune Scimitar | 100 | 25600 |
| Dragon Scimitar | 100 | 100000 |
| Dragon Dagger(p++) | 100 | 24000 |
| Iron 2h sword | 100 | 280 |
| Steel 2h sword | 100 | 1000 |
| Black 2h sword | 100 | 1920 |
| Mithril 2h sword | 100 | 2600 |
| Adamant 2h sword | 100 | 6400 |
| Rune 2h sword | 100 | 64000 |
| Dragon longsword | 100 | 100000 |
| Dragon mace | 100 | 50000 |
| Iron dagger | 100 | 35 |
| Steel dagger | 100 | 125 |
| Mithril dagger | 100 | 325 |
| Adamant dagger | 100 | 800 |
| Rune dagger | 100 | 8000 |
| Iron claws | 100 | 50 |
| Black claws | 100 | 360 |
| Mithril claws | 100 | 475 |
| Adamant claws | 100 | 1200 |
| Dragon halberd | 100 | 250000 |
| Iron defender | 100 | 1 |
| Steel defender | 100 | 1 |
| Black defender | 100 | 1 |
| Mithril defender | 100 | 1 |
| Adamant defender | 100 | 1 |
| Dragon battleaxe | 100 | 230000 |
| Tzhaar-ket-om | 100 | 50000 |